The Best Japanese Sock Makers and Why You Need to Invest
19/23/2021
Socks. Pretty simple right? Wrong. In Japan, socks are actually kind of a big deal and this is certainly reflected in the sheer number of different socks sold. So why is there such a hype around them? Well, in Japan it is customary for all guests to remove their shoes by the door (in most homes there is often a designated spot known as the Genken) upon entering, and therefore socks are important: dirty or scruffy socks are a big faux pas. Aside from the cultural importance, over the years Japan has built a strong reputation for producing premium quality socks for a number of reasons. So we thought we'd bring you our pick of the best Japanese sock makers, and explain what makes them so special.
01.
RoToTo
First up is RoToTo. Their socks, which they refer to as 'lifelong consumables', are produced in the Nara region of Japan. Just south of Kyoto, the area is renowned for making its own specialised Yamato Gasuri cotton, which (according to those in the know) has a reputation for producing many of the finest socks. Alongside their premium quality, RoToTo also has a admirable approach when it comes to sustainability. As a brand, they are committed to reducing the amount of waste that derives from the manufacturing process, and therefore the binding rings on their socks are created from this excess material which would ordinarily be thrown away. Any material they don't use is delivered to nearby social groups where it is often repurposed to make cushions or other soft furnishings.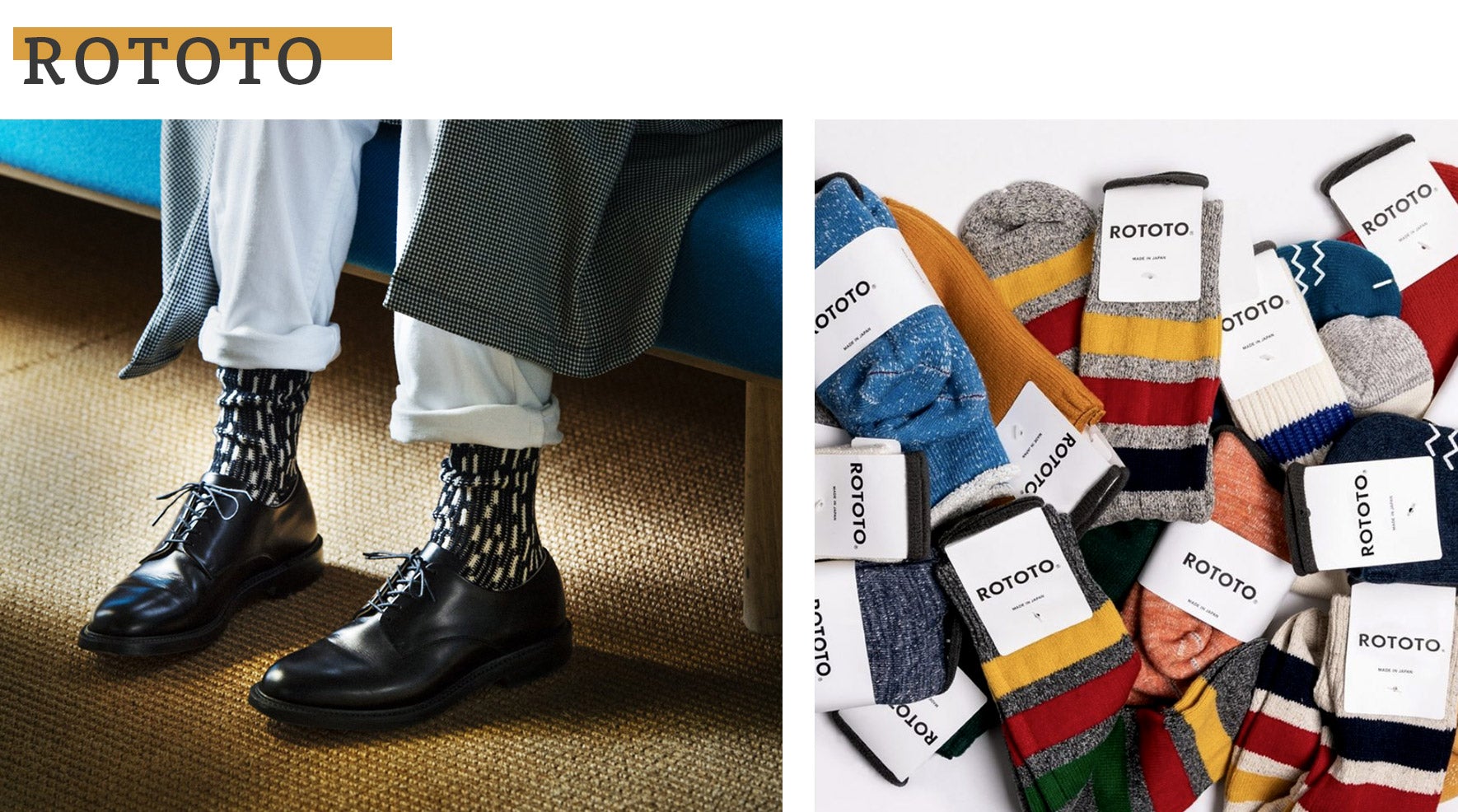 02.
ANONYMOUS ISM
Anonymous ISM are another big hitter when it comes to premium quality Japanese socks, but as the name suggests not much is known about the brand itself. They have little social media presence, and their official website provides scant detail on the history of the brand. However, what we do know is that Anonymous ISM were founded back in 1993 by master craftsman Akihiro Joseph Ono, a native of Nara (the aforementioned sock capital of Japan). Using a combination of premium wools, cottons and wool blends, Anonymous ISM's socks speak for themselves. New for SS21 at the 5th are the special edition 'Go Hemp' socks, which are crafted in Japan using an organic cotton and hemp blend. These come in the original crew style and the shorter ankle style.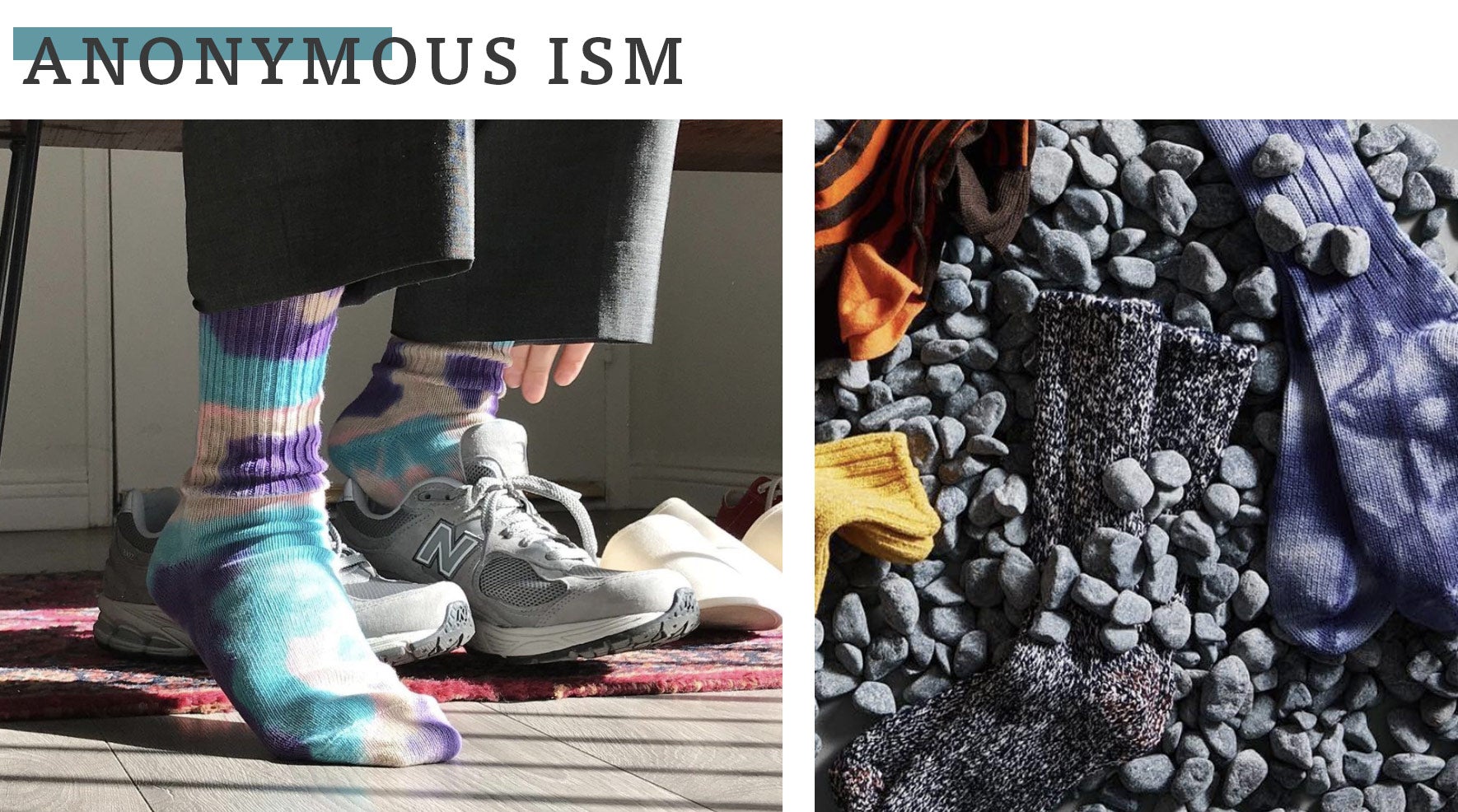 03.
ROSTERSOX
Last but certainly not least is Rostersox. While the brand derives much of its inspiration from baseball culture ('roster' is a term used in the sport) and vintage Americana, rest assured that the socks themselves are still exclusively made by hand in Japan. Rostersox's quality craftsmanship delivers in both the comfort and style stakes, with a number of innovative designs ranging from tie dye to classic collegiate crews, they prove that socks can be more than a necessity, they can add colour or elevate an outfit.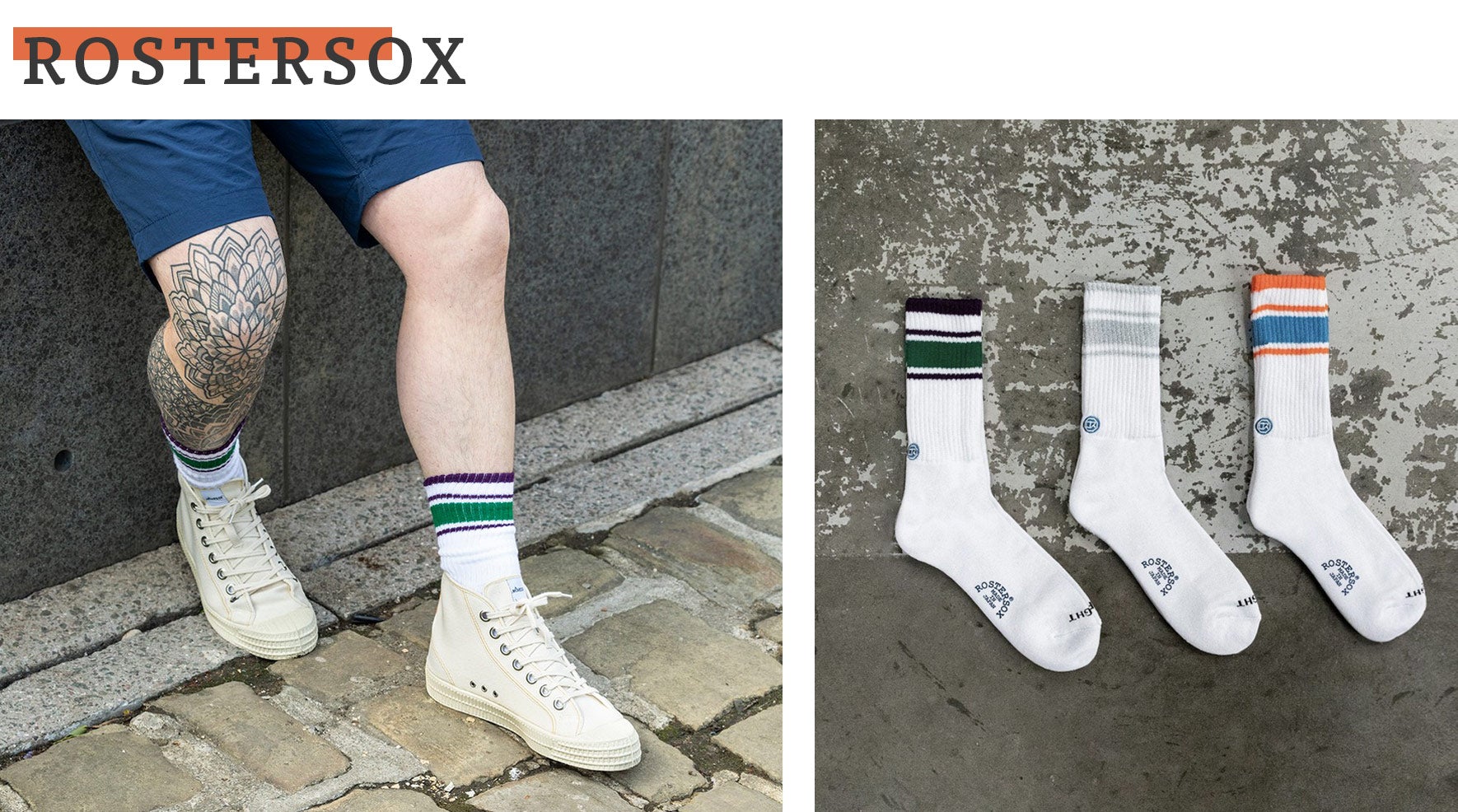 Just because socks are a relatively small purchase, doesn't mean we should approach them with a throwaway attitude. Investing in socks that are designed to last (and a joy to wear) will save you money in the long run, and certainly reduce your individual material consumption making it the more eco-friendly option.